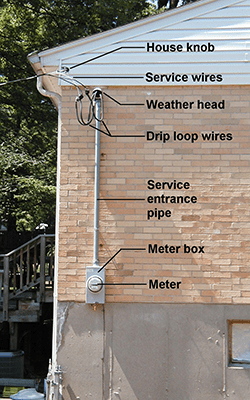 We are committed to undergrounding certain power lines to ensure greater service reliability for our customers. However, we cannot elect to underground the service wires connected to a residential customer's home or building because there are costs the customer would incur. We recognize undergrounding service wires is important to some of our customers, and we are committed to ensuring all customers have the information they need to make the decisions that are right for them.
The photo on this page shows a typical overhead service entrance for a house. Of the items shown, Ameren Missouri owns only the house knob, service wires, and meter; the customer owns the rest of the equipment.

When choosing to underground service wires, customers are responsible for the following:

(1) Installation of a new meter box that accepts cables from below (as opposed to wires from above)

(2) Installation of a new buried service conduit on the property to the underside of the new meter box. (This plastic pipe will house Ameren Missouri's new service cable)

(3) Removal of the weather head, drip loop wires, service entrance pipe and old meter box


Next steps include:
•Estimating customer costs for replacing a meter outlet, installing a new service conduit, and removing the existing weather head
•Arranging for a licensed electrical contractor to do the work described in steps 1 – 3 above

The National Electrical Contractors Association (314.644.3030) or the Independent Electrical Contractors Association can provide a list of licensed electrical contractors in a community.

The contractor will arrange for Ameren Missouri to complete the undergrounding portion of this project, which includes installing a new underground service cable to a customer's property and making final connections. There is no additional charge for Ameren Missouri's services.

For residential customers who choose not to underground the service wires to their property, we will make all necessary provisions to ensure overhead service wires are undisturbed.

To find out more about these service options, call 800.552.7583.