Bhavani Amirthalingam
Executive Vice President and Chief Customer and Technology Officer, Ameren Services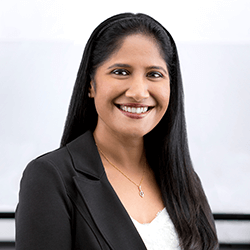 Bhavani Amirthalingam is executive vice president and chief customer and technology officer of Ameren Corp. She is responsible for all aspects of the Customer Experience for Ameren's 2.4 million electric and more than 900,000 natural gas customers in Missouri and Illinois. She also leads Ameren's digital strategy, technology and cybersecurity organizations in this role focused on delivering a best-in-class customer and co-worker experience.
Bhavani Amirthalingam joined Ameren in 2018 as senior vice president and chief digital information officer. In this role she led Ameren's digital transformation to deliver a differentiated customer and co-worker experience, leveraging emerging technologies to enable the grid of the future while driving operational excellence at scale and maturing Ameren's cybersecurity posture. She helped establish and deliver on Ameren's digital strategy in creating new ways of engaging with our customers, enabling a flexible hybrid workplace, and digitizing work in the field and operations to provide more effective ways of working for our co-workers.
Amirthalingam brings to Ameren both a breadth and depth of experience as a customer-centric innovator. Starting in 2015, she worked as chief information officer and business transformation leader of North American Operations at Schneider Electric, a Fortune 500 corporation specializing in global energy management and automation solutions integrating technology, software and services. There, she drove the organization's digital transformation across the United States, Canada, Mexico and Central America. Previously, at World Wide Technology (WWT) Inc., she served as CIO and vice president of Customer Solutions and Innovation. Amirthalingam was listed as one of the Forbes 50 Innovative Technology Leaders of 2021.
She earned a bachelor's degree in computer science from the University of Madras, India, and an MBA in information management from the S.P. Jain Institute of Management & Research in Mumbai. Amirthalingam serves as a member of the Forbes Technology Council and Chair of the Electric Power Research Institute (EPRI) Artificial Intelligence (AI) Committee. She is a member of World 50, a private community for CEOs and C-level executives at globally respected organizations to discover better ideas, share valuable experiences and build relationships that make a lasting impact. She is a member of the Board of Directors of Core & Main, Inc.
Amirthalingam is as passionate about giving back as she is about driving results. She serves on the boards of the St. Louis Symphony Orchestra, and Saint Louis Children's Hospital. She lives in the St. Louis area with her husband and two children.