Gwen G. Mizell
Senior Vice President, Chief Sustainability, Diversity & Philanthropy Officer, Ameren Services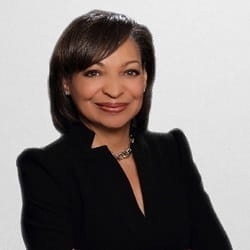 Gwen Mizell is the senior vice president, chief sustainability, diversity and philanthropy officer for Ameren Corporation, further aligning her leadership, expertise and engagement to oversee and advance the company's impacts across these interconnected areas. The role is an expansion of Mizell's previous duties as the company's chief sustainability and diversity officer, and previous role as vice president of sustainability and innovation.
She joined Ameren in 2015 as director of diversity and inclusion after having founded a successful energy consulting enterprise where she served as President and CEO for 10 years. Mizell's expertise in the energy industry was developed through prior corporate roles of increasing responsibility at Westinghouse Electric, Siemens, ABB, Calpine Corporation, and KEMA Consulting.
Mizell holds a master's degree in management and public policy analysis from Carnegie Mellon University and a bachelor's degree in materials science and engineering from the University of Alabama at Birmingham. In addition, she completed a program in Public Policy Management at the Harvard JFK School of Government as well as a certificate program in Strategic Diversity and Inclusion Management at Georgetown University.
Mizell was appointed to the board of directors for Gibraltar Industries in 2021 and serves on two committees. She is a member of the national board of directors of the American Association of Blacks in Energy, vice chair of the Legislative Issues and Public Policy Committee. Additionally, she was appointed by the County Executive to serve on the St. Louis County Workforce Investment Board. She supports the Archway (MO) Chapter of the Links Inc., an international women's service organization.
Her work at Ameren aligns with her passion for closing gaps for high school and first-generation college students, providing mentoring and supportive services to ensure their success. A commitment of her family's as well, they established a family foundation to support those causes. She and her husband Steve reside in St. Louis and are the proud parents of two daughters.