Chonda J. Nwamu
Executive Vice President, General Counsel and Secretary, Ameren Corporation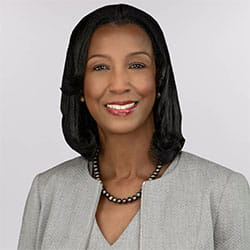 Chonda Nwamu is executive vice president, general counsel & secretary for Ameren Corporation. Nwamu is the primary legal advisor to Ameren's Board of Directors and senior management, and she leads the General Counsel function, which includes the company's legal, corporate governance, federal regulatory and legislative affairs, and enterprise ethics and compliance departments. She also serves on Ameren's Executive Leadership Team as a contributor to overall strategic direction of the Company.
Nwamu joined Ameren Services Company in 2016 as vice president and deputy general counsel of the legal department, and was promoted to senior vice president in 2019. In the deputy general counsel role, she led Legal Department strategy and operations, and oversaw the department's various practice areas including regulatory, transactional, environmental, labor and employment, and litigation and claims.
Prior to joining Ameren, Nwamu practiced law at a California investor-owned electric and gas utility. During her 16 year tenure at the California energy utility, she served in a variety of legal, regulatory and customer-focused roles including Managing Counsel and Senior Director. Prior to joining the California energy utility, Nwamu was in private practice at a commercial litigation law firm in Philadelphia, PA where she specialized in complex commercial litigation including pharmaceutical products liability defense.
Nwamu previously served as president of the Conference of California Public Utility Counsel. She was also selected to participate as a Fellow in the Leadership Council for Legal Diversity, and the International Women's Forum leadership programs.
Nwamu earned a Juris Doctor degree from the University of Pennsylvania. She also holds a Bachelor of Arts degree in English from the University of Virginia.
Nwamu is committed to community service, and is an advocate for diversity and inclusion in the legal profession. She was appointed to the Board of Directors for BellRing Brands Inc., and also serves on the Board of Directors of the Boys and Girls Club of Greater St. Louis. She was also appointed by the Mayor of St. Louis to serve as a city Commissioner on the St. Louis Zoological Park Subdistrict Commission.
She resides in the city of St. Louis with her husband and two children.