5.24 - An Unfortunate Event
Hello All. I have some bad news. Over the weekend 18-19 May our 2 chicks died. In working with the person who runs the camera, it has been determined that the adult female stopped coming to the box. The chicks were still totally dependent on being fed by the female. The chicks don't start getting strength in their feet and beaks, at least enough to feed themselves, until about 30 days of age. At that time they can also stand. All 3 things, standing over the food to be able to tear, having the foot strength to hold the prey in place, and beak strength, are very important in them being able to feed themselves.
The male cannot raise the kids on his own. Nature has given him the job of providing food for the female, and she brings the food to the box, tears it into pieces with her beak and feeds the chicks. When the female stops coming to the box, the male just isn't capable of taking over the duties of feeding. Our camera man poured over camera footage from the weekend and found some video of the male sitting on the unhatched eggs. Of course, he doesn't have the capacity to understand this futile effort. This bazaar behavior tells me something happened to the female.
Our female was 13 years old. In Ask Jeff 1 I spoke about how this is quite old for a Peregrine. There are so many things that could have happened to her; so many things that it's useless to speculate. Over the 8 nesting seasons we have been able to get our viewers into the lives of Peregrine Falcons, I've mentioned how hard it is to lead a life in the wild, not just for Peregrines, but for all wildlife. Nature is seemingly cruel. Wildlife has to deal with predators, prey that can fight back, bad weather, let alone the obstacles we humans place in nature. Unfortunately we have to deal with this event, but I can safely tell you that there will be a thousand Peregrine nests in the United States this year that will fail, or have already failed. Again, this is just the harsh reality of nature. The bright side is there will be many more thousands of nests that will be successful, as our nest has been for the 7 years before the 2019 nesting season. Bottom line is the Peregrine Falcon population is still very strong, and with all the care and compassion we humans put into helping them be successful, there will always be Peregrines and much more wildlife for us and future generations to enjoy.
I think I can speak for our falcon cam team to say we all look forward to bringing you Ameren's Sioux Energy Center Peregrine Falcon cam in 2020.
Author: Jeff Meshach, World Bird Sanctuary
---
5.21 - My, How Those Chicks Grow!
Hi All! We are rapidly approaching banding day, which is Tuesday, 21 May. My, how those chicks grow! They were about an ounce (28 grams) at hatching, and at 16 days of age (I write this on 17 May) they weigh about 12 ounces (336 grams). On banding day they will be 20 days old, which is the perfect age to band. Bird of prey chicks are altricial, meaning helpless for the first several weeks of life (the opposite is precocial, like duck chicks that can follow mom and swim within hours of hatching). I take advantage of this helplessness in that I don't have to deal with biting, footing chicks when I collect them for banding. At 20 days of age they still aren't walking, have no strength in their feet and very little beak strength. Yet, they are old enough where I can tell the difference between the males and females. Males are considerably smaller than females, thus I must use different size bands on each.
I got a question over the week! The question is when will mom stop brooding the chicks? In ASK JEFF 5 I wrote about the differences between incubating and brooding, and the reason why mom (and sometimes dad) must keep the chicks warm. As the chicks grow their bodies eventually get big enough where their core temperature starts to remain the same, which is 104 degrees F with most of our world's birds. The more insulation there is around the cores of their bodies, the easier it is for their bodies to keep a constant temperature. This coupled with those amazing feathers, which are the world's best natural insulation, our Peregrine chicks start to regulate their own body temperatures around 10 days of age. At 16 days old, which they are this day that I write, and with the temperature being in the low 90's, there is no need for mom to do any brooding. Even if the temperature dipped into the 50's tonight, the chicks would be fine without extra warmth from mom.
I'll write to you next week right after banding day.
---
5.9 - Eight Days Old and Going Strong
Hello all! Today (5/9) our 2 chicks are 8 days old. Especially Dad falcon is busy bringing in prey for mom to feed to the ever growing chicks. As I write this I see Mom is busy brooding (I explained brooding in the last Ask Jeff) because the temperature is cool today, with also a little rain. Her position in the box is much different than it was a week ago and beyond, when she had very small chicks or just eggs. The chicks grow so fast that they make Mom have to stand up more as she keeps the chicks warm under her.
Fast growth is an understatement when speaking of chicks. In a mere 50 days the chicks will be fully grown. That's going from weighing about an ounce and a half (45 grams) at hatching to males weighing about 28 ounces (800 grams) and females weighing about 50 ounces (1,425 grams).
You may ask why the females are much bigger than the males. There are several theories on this phenomenon. Some say males are smaller for better agility when trying to catch prey, especially during the critical time of incubation and young chick brooding. The male does almost all of the hunting for the female and then the young family.
Some say the female is larger than the male for nest defense. If the body is bigger it is thus more intimidating to would be egg/chick stealers. Still others say the female is bigger to be able to produce the clutch of eggs. The eggs take a lot of nutrients from the body, and if the body is bigger it should be able to more easily produce eggs and still leave plenty in the tank for other bodily functions.
A female bird's body has another little secret to help with egg production. Birds that fly have hollow places within the larger bones. With flying being one of the most strenuous exercises in nature, having hollow bones helps save weight and makes for a lighter body more easily kept aloft. Females have the ability to grow medullary bone within the hollow spaces. Medullary bone is small bone spurs that grow from the bone surfaces within the hollow spaces. It grows over the non-breeding season, and during egg production the spurs decrease in size as the eggs are produced.
Still no questions from our viewers. I miss your questions! Please write them in and I'll get right to them on the next ASK JEFF.
---
5.3 - We Have Hatching!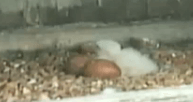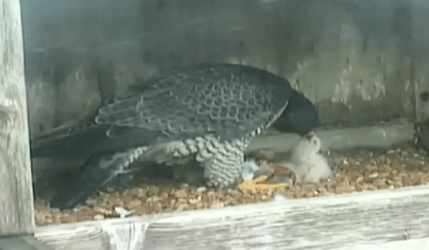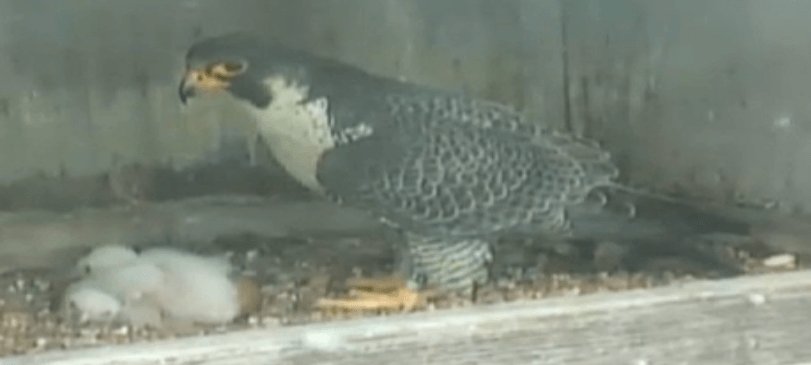 Hello All. The day has come. We have hatching! One of our team members saw the first chick May 1. With the current rainy and somewhat cool weather our female is sitting very tight on her new family, but on the morning of May 3 I finally saw the next generation – we were even able to grab a few photos. When she got up to let the male take over brooding duties, I saw two chicks. For those who watched last year, you may remember we had two then. She had five eggs, and why only two hatched we will never know. However, with her and the male's old age (13 and 15 years old respectively), it could explain lack of nesting productivity.
When a bird is keeping eggs warm, it's called incubating. When a bird is keeping chicks warm, it's called brooding. It's very important to keep the young chicks warm because birds can't regulate their own body heat at first. They are much more like their reptilian ancestors (reptiles are cold blooded) until they get to be a certain size and grow their downy feathers to help insulate their small bodies. If you watch the Peregrines on a daily basis, you'll see mom brooding the chicks a lot over the first 5-10 days. After the 10th or so day, and/or if the temperature warms into the 80's, mom will start spending less time brooding because the chicks will start to regulate their own 104 degree F body temperature.
Our banding day is scheduled for May 21. We turn the camera off that morning until our activities are done. Then you'll see the new "jewelry" on the chicks. I like to band the chicks at 20 days because then you can easily tell the difference in size between the males and females. Females are larger than the males, which translates to a different size band for each.
I'm ripe for answering your questions, especially now that the chicks have arrived. Talk to you next week!