How We Use Water
The majority of water we use is fresh surface water that comes from the Mississippi, Missouri, and Osage rivers. Most of this is used for clean hydroelectric power generation, which contributes to Ameren's goal to achieve net-zero carbon emissions by 2045. Ameren Missouri operates three hydroelectric energy centers that harness freshwater and pumped water to create power. Water releases from these facilities are monitored and managed to meet regulatory criteria.
Freshwater is also used for non-contact thermal cooling at our nuclear and coal-fired energy centers. A small fraction of water is used for non-cooling purposes, which is treated in our wastewater treatment systems before it is discharged back to the river from where it came. All water is closely monitored in accordance with our specific permit limits and 99% of what is withdrawn from river systems is safely returned to the environment.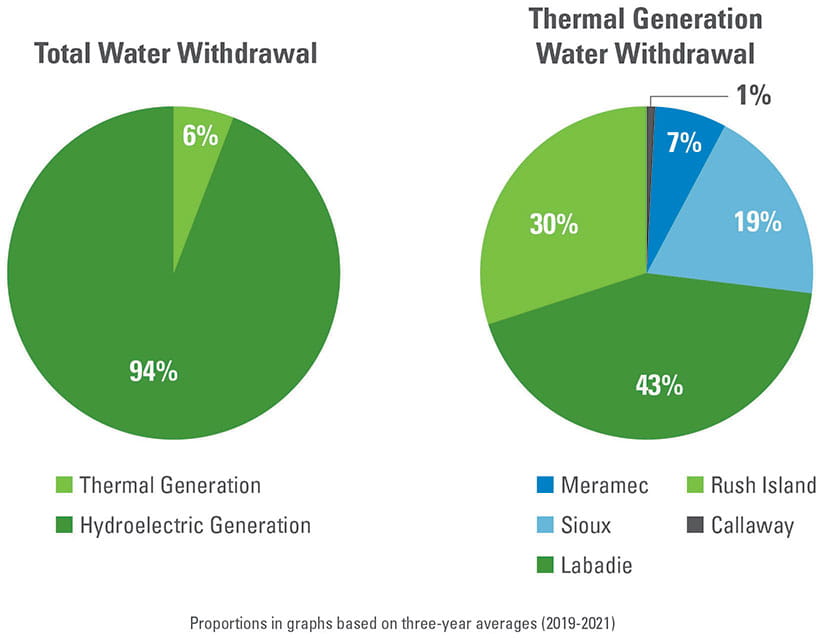 Recycled water is used at several of our facilities. For example, the Taum Sauk Energy Center features a closed-loop system that continuously reuses water, as well as the cooling system at our Callaway nuclear energy center.
In addition, we have transitioned all coal-fired energy centers to dry ash handling, which has also contributed to our reduced overall water use. Read more about our coal combustion residual (CCR) management efforts.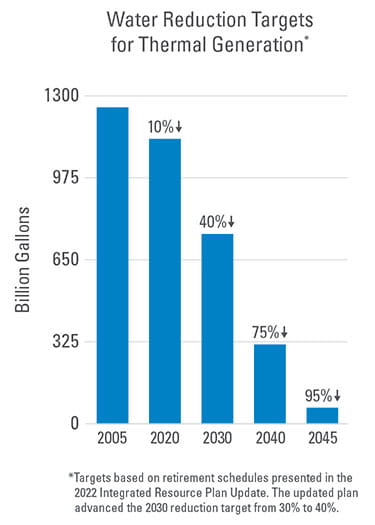 Water Reduction Targets
We are targeting a 95% reduction in water withdrawal for thermal generation (i.e., all non-hydroelectric generation) by 2045, with interim targets of 40% by 2030, and 75% by 2040, compared to 2005 levels. Our water reduction targets coincide with the retirement of our coal-fired energy centers, as presented in Ameren Missouri's Integrated Resource Plan.
As of December 31, 2020, we reduced water withdrawal for thermal generation by 10% from 2005 levels, representing approximately 140 billion gallons of annual water savings. This reduction is due to the retirement of two coal-fired energy centers, and recent investments to convert to dry ash handling at our coal-fired energy centers.