Ajay K. Arora
Ameren Missouri Vice President Power Operations and Energy Management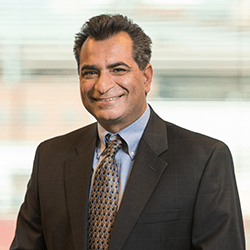 Ajay Arora is vice president of Ameren Missouri Power Operations and Energy Management, where he is responsible for the safe and reliable operations of a diverse energy generation portfolio of 15 separate coal, natural gas, hydro and solar energy centers, totaling more than 10,000 megawatts. In addition, he is responsible for energy trading, marketing, and the management of energy, power, coal, natural gas, power plant emissions, and coal combustion byproducts, and all non-nuclear generation investments.
Arora heads the development and operations of all new renewable energy generation resources. He is also responsible for transforming and transitioning Ameren Missouri's generation portfolio to a cleaner energy mix in a responsible manner, and for the profit and loss of the approximately $1.2 billion in annual energy sales from generation operations for the benefit of Ameren Missouri customers.
Prior to this position, Arora was vice president, Environmental Services and Generation Resource Planning. He has also directed the Corporate Planning, Corporate Development, Market Risk Management and the Corporate Project Oversight groups at Ameren.
Arora is a member of the prestigious Eisenhower Fellowships, and is involved with the Board at the Ronald McDonald House Charities. He graduated from Tulane University in New Orleans with a master's degree in business administration and from Panjab University with a bachelor's degree in chemical engineering.