Ajay K. Arora
Ameren Missouri Senior Vice President, Chief Renewable Development Officer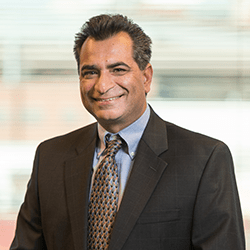 Ajay Arora is senior vice president and Chief Renewable Development Officer of Ameren Missouri, where he is responsible for implementing Ameren Missouri's transformational generation plan to cleaner energy sources.
This includes providing leadership, oversight and coordination of renewable resource and energy storage development including strategic partnerships; thought leadership on renewable energy policy at the federal, state and national levels; and strategic planning for all renewable energy, storage and environmental matters. Arora also leads the Ameren Missouri environmental services team associated with the operation and maintenance of energy centers and the energy delivery system.
Arora is in charge of the execution of Ameren Missouri's Generation Transformation plan, which includes an unwavering focus on the reliability and affordability that customers have come to expect from Ameren Missouri as the company implements its largest-ever expansion of clean solar and wind generation as well as battery storage systems. Under the plan, the company plans to add over 6000 MW of new renewable generation and battery storage by 2040.
Previously Arora was responsible for the safe and reliable operations of a diverse energy generation portfolio of over 20 separate coal, natural gas, hydro, wind and solar energy centers, totaling more than 10,000 megawatts. In addition, he was also responsible for energy trading, marketing, and the management of energy, power, coal, natural gas, power plant emissions, and coal combustion byproducts, and all non-nuclear generation investments.
Arora is a member of the prestigious Eisenhower Fellowships, and is involved with the Board at the Ronald McDonald House Charities. He graduated from Tulane University in New Orleans with a Master's in Business Administration and from Punjab University with a Bachelor's in Chemical Engineering.