Ajay K. Arora
Ameren Missouri Vice President, Chief Renewable Development Officer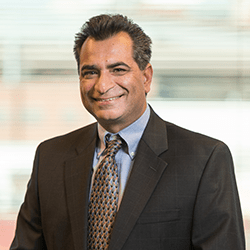 Ajay Arora is Ameren's first Chief Renewable Development Officer. In this role, Arora is focused on implementing Ameren Missouri's transformational generation plan incorporating cleaner energy resources.
This includes providing leadership, oversight and coordination of generation resource planning including renewable energy resource and energy storage development, as well as thought leadership on renewable energy policy at the federal, state and local levels; and strategic planning for all renewable energy and environmental matters.
Arora will also continue to lead the Ameren Missouri Environmental Services team associated with the operation and maintenance of energy centers and the energy delivery system.
Arora, a resident of Chesterfield, Mo., is a 22-year veteran of Ameren. He has served as Ameren's vice president of Power Operations and Energy Management. Before this position, Arora was vice president of Environmental Services and Generation Resource Planning. He has also directed the Corporate Planning, Corporate Development, Market Risk Management and the Corporate Project Oversight groups at Ameren.
Arora is a member of the prestigious Eisenhower Fellowships, and is involved with the Board at the Ronald McDonald House Charities. He graduated from Tulane University in New Orleans with a master's degree in business administration and from Panjab University with a bachelor's degree in chemical engineering.