Kevin Anders
Ameren Missouri Vice President of Operations and Technical Services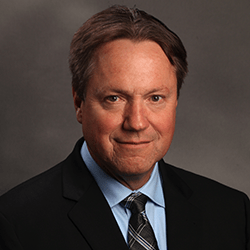 Kevin Anders is vice president of Operations & Technical Services at Ameren Missouri. With more than thirty years of experience in the electric utility industry, Anders is responsible for the operation of the distribution system, maintenance of substations, engineering design, and management of major capital projects. Additionally, management of external contractors performing work on the Ameren Missouri distribution system, including tree trimming and vegetation management, are in Kevin's area of responsibility.
Anders has a BSEE from Missouri University of Science and Technology, and a master's degree in business administration from the University of Missouri – St. Louis. He is also a registered Professional Engineer in the state of Missouri.
Anders currently serves on the Board of Directors for Citizens for Modern Transit. He also serves on the Edison Electrical Institute Distribution Executive Committee and is the Chair of its Planning, Design, and Asset Optimization Working Group.