Matt Forck
Ameren Missouri Vice President, Community, Economic Development and Energy Solutions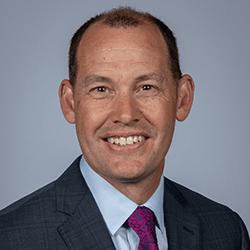 Matt Forck has served as Ameren Missouri's vice president of Community, Economic Development and Energy Solutions since 2018. This team is driving energy solutions, including customer renewable energy and sustainability options, clean electrification and community and economic development, to create thriving and sustainable growth for the 1.2 million customers and 500 communities which Ameren Missouri serves.
Forck is an inclusive and adaptive leader with extensive and diverse experience with Ameren. In addition to his current role as an executive leader, his vast and varied experience includes more than a decade serving as Sr. Director, Government Relations, leading policy and stakeholder development. Other leadership roles include utility safety oversight and directing electric utility operations – all after starting in the utility's equivalent of a mail room -- as a meter reader.
Matt's professional accomplishments reveal a track record of success, include national recognition for excellence in advocacy, economic development and passage of landmark utility legislation, the Smart Energy Plan, which unlocked an incremental $1B in smart grid investments in Missouri.
Forck holds a B.S from Truman State University (1992), is currently enrolled in Washington University's Executive MBA program, is a board certified safety professional (CSP) and earned a journey card in overhead electrical line work (1997).
Matt, and his wife Stephanie, have been married since 1993 and have formed a diverse family through adoption; Natalie 20 and Nate 19. He's also an avid Missouri Tiger fan.