Matt Forck
Ameren Missouri Vice President, Community, Economic Development and Energy Solutions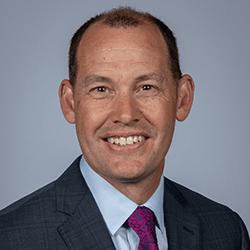 Matt Forck serves as Ameren Missouri's vice president of Community, Economic Development and Energy Solutions. This team is driving energy solutions to create thriving and sustainable growth for customers and communities.

Forck holds a B.S from Truman State University (1992) and is a board certified safety professional (CSP). His career with Ameren Missouri started after graduating college in this utility equivalent of the 'mail room,' as a meter reader. He earned journey status as an overhead line worker in 1997. From that point Forck supported a number of leadership positions including supervisor of Electric Operations and then safety supervisor, supporting nearly 400 line workers, substation mechanics and equipment operators.
For more than a decade (2007-2018) Forck led Ameren Missouri's Government Affairs team. In 2011, this team began Ameren Missouri's grassroots outreach team called, POWERforward – a community group consisting of employees, retirees and suppliers. In 2014, POWERforward was recognized by the Edison Electric Institute with the Excellence in Advocacy Award and was a national runner up in 2016. In addition to other legislative milestones, this team led passage of the Smart Energy Plan (SB 564) in 2018.