Stephanie P. Banker
Ameren Missouri Vice President of Engineering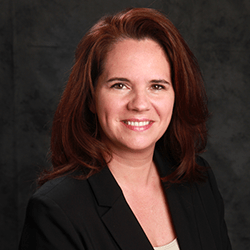 Stephanie Banker is currently the vice president of Engineering at the Callaway Energy Center. She is responsible for the safe operation of the Callaway Energy Center by ensuring the plant is maintained and operated within its design and licensing basis.

Banker joined Ameren Missouri at Callaway Energy Center in 2010 as manager protective services. Since 2012, she has held positions including senior director engineering, senior director performance improvement & learning, senior director executive projects, director training, and manager protective services.
Prior to joining Ameren Missouri, she was program manager-industry leadership and development at the Institute of Nuclear Power Operations. During her career, she held various positions including senior engineer, shift technical advisor and senior reactor operator at Progress Energy; assistant professor of physics at the U.S. Air Force Academy; and program manager at the U.S. Air Force Technical Applications Center.
Banker holds a Bachelor of Science in nuclear engineering and Ph.D. in nuclear engineering & science from Rensselaer Polytechnic Institute; and a master's degree in business administration from Averett University. She obtained a Senior Reactor Operator's license from the Nuclear Regulatory Commission for the Shearon Harris Nuclear Plant in 2008.