Tara K. Oglesby
Ameren Missouri Vice President of Customer Experience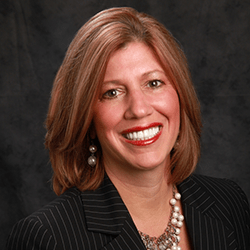 As Vice President of Customer Experience, Tara K. Oglesby is responsible for effectively driving customer-focused strategies to ensure every interaction leads to a great customer experience. She is responsible for leading departments which play a critical role in delivering a satisfying experience including: Customer Service, Energy Efficiency & Renewables, Customer Intelligence and Smart Meter Strategy & Implementation.
With more than 25 years of experience in the utility industry, Oglesby began her career with Central Illinois Public Service Company in 1992, now Ameren Illinois. During her years at Ameren, she has held a variety of roles in field operations, generation, accounting, marketing and customer service. From 2006 - 2014, she led Ameren's Emergency Operations Center logistics team, whose primary role during major storm events is to support responders by providing meals, lodging, fueling and security. In 2008, she was promoted to director of Customer Satisfaction, forming Ameren's first customer research and strategy group. In her current role, she oversees the largest portfolio of energy efficiency programs in Missouri's history, in addition to leading a company-wide effort on improving customer satisfaction. Since then, Ameren Missouri has won 2 J. D. Power awards for highest in business customer satisfaction.
Oglesby holds a Bachelor of Science degree in business administration from The University of Illinois. She is a Six Sigma Black Belt and a recipient of Ameren's President's Performance Leadership Award in 2006 and the President's Pinnacle Award in 2013. Oglesby is active on two St. Louis area non-profit board of directors and has played a leadership role in supporting the Greater Missouri Leadership Challenge, whose focus is engaging Missouri women to lead and serve their communities.