Warren T. Wood
Ameren Missouri Vice President of Regulatory & Legislative Affairs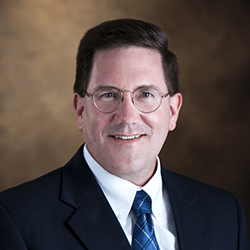 Warren Wood joined Ameren Missouri as vice president, Legislative and Regulatory Affairs in 2010. In this role, he oversees state legislative and regulatory policy development and compliance for the company. Wood is a registered professional engineer with a background in utility infrastructure design, construction and operation, and energy policy development.
In 1987, Wood received a degree in civil engineering with honors from the University of Missouri - Columbia. Upon graduation, he was employed by Black & Veatch consulting firm where he worked in the Energy and Environmental divisions for a little more than ten years.
While at Black & Veatch, Wood designed a wide range of power generation and water treatment associated facilities; acted as an engineering liaison between design and joint venture partner offices; developed specifications; designed structural elements and mechanical systems; drafted engineering drawings; and wrote customer computer programs to assist in solving a variety of engineering problems. He focused on new and retrofit work on coal, combustion turbine and nuclear power plant projects.
Wood worked at Questec Engineering in Columbia, Missouri in 1997 and 1998. While there, he was a project manager in charge of design, site development, and completion of numerous types of engineering projects for industrial, commercial and residential customers.
Wood worked for the Missouri Public Service Commission ("Commission") for a little more than eight years. Initially he was hired as a regulatory engineer in the Procurement Analysis department of the Commission. Wood was later employed as the Natural Gas department manager, promoted to the newly created Energy department manager position, and was later promoted to Utility Operations division director. In this position, he oversaw the day-to-day activities of the Operations division; regularly participated in Commission policy development efforts; participated in discussions and gave presentations to stakeholder groups and legislative committees; and conducted roundtables and facilitated rule-making workshops. While at the Commission, he participated in several USAID missions focused on energy infrastructure, policy and regulation that took him to Rwanda, Zambia, Serbia and Jamaica.
Wood was employed by the Missouri Public Utility Alliance in 2007 and later employed as president of the Missouri Energy Development Association ("MEDA"). He left MEDA in 2010 to join Ameren Missouri.