Through Ameren Missouri's Smart Energy Plan, we are investing in state-of-the-art technology to reduce outages and respond faster when they do occur. We're also hardening the grid, replacing older power lines, strengthening poles and upgrading aging substations to ensure greater reliability for our customers. We're adding smart technology, including outage detection and restoration switches, as well as smart meters, allowing customers to take advantage of expanded rate options. And we're committed to a clean energy transition as an essential part of a more advanced energy grid to serve our communities and region.
What: On Aug. 1, 2022, Ameren Missouri filed a request with the Missouri Public Service Commission (PSC) to adjust electric rates, reflecting major upgrades for electric system reliability and resiliency for customers, as well as investments to support the transition to cleaner energy for the benefit of our customers and local communities.
When: New rates would go into effect mid-2023, following a thorough review by the PSC over the next 11 months.
Why: Ameren Missouri is committed to moving the state forward by meeting customer needs and expectations for more reliable service, greater resiliency and cleaner energy. We're focused on making the electric system more dependable while investing in cleaner energy as we evolve our generation plans.
How Much: If approved, the average residential electric customer would pay about $12 more a month based on approximately 1,017 kilowatt-hours of usage per month. Ameren Missouri's electric rates today are only slightly higher than they were five years ago and this rate adjustment request, if approved, would reflect a yearly average increase of approximately 2.3% since 2017.
Working to Keep Rates Low
We're committed to doing what we can to keep rates as low as possible by spending wisely and cutting costs. Ameren Missouri's overall residential electric base rates have consistently been below the Midwest and U.S. averages since 2017. Rates are poised to remain well below the Midwest average even after the completion of this electric rate review.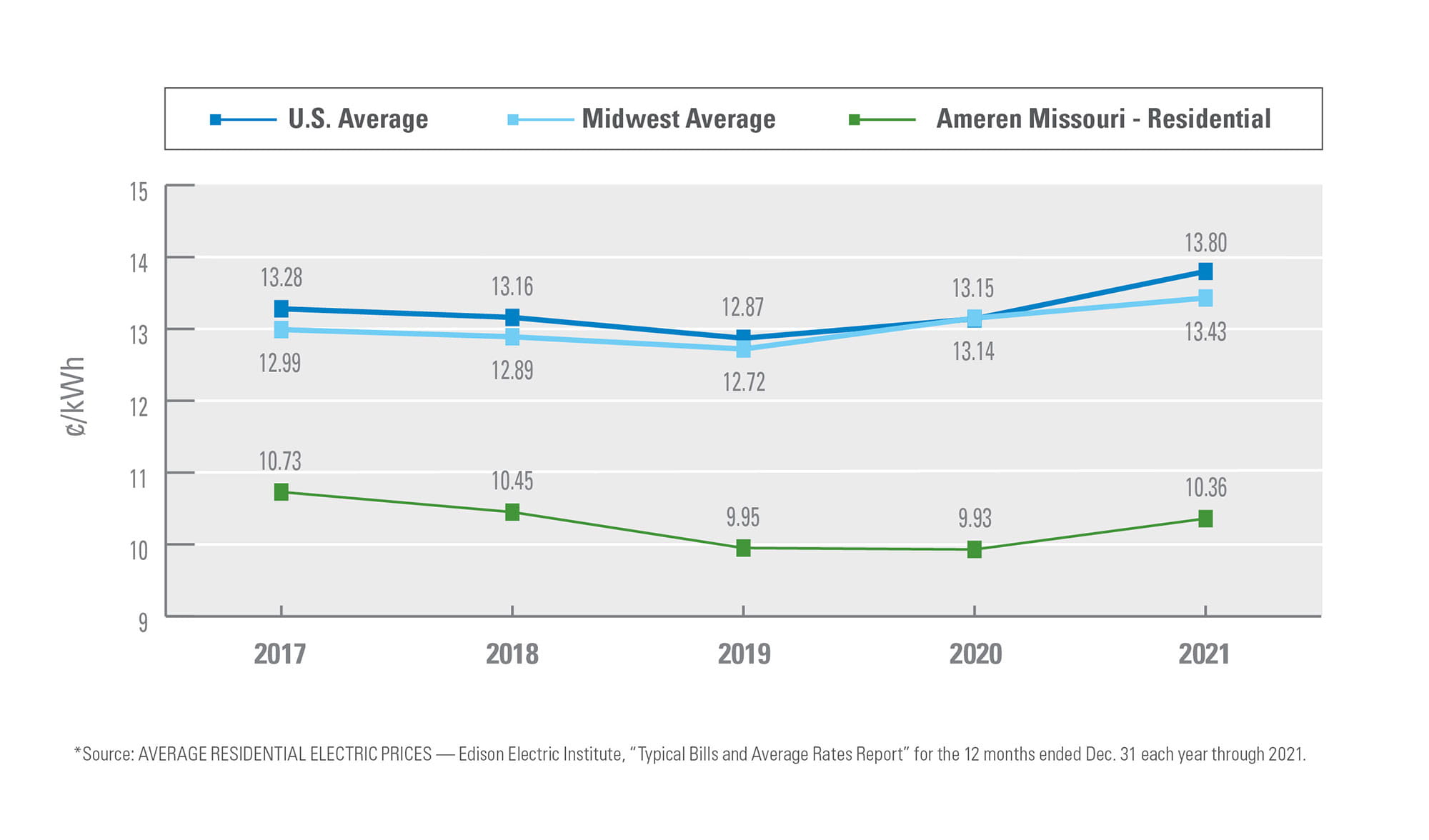 Key Customer Benefits
Our customers are at the center of everything we do at Ameren Missouri. As a result of the investments we are making in our electric system, our customers can depend on us to provide reliable, resilient and clean energy now and into the future.
Components of the rate review adjustment request include:
Strengthening the grid through Ameren Missouri's Smart Energy Plan, including infrastructure upgrades bolstering reliability and resiliency, more renewable generation, installation of smart meters, and the addition of programs to stimulate economic growth for communities across the state.
Offering rate options that fit a range of customer lifestyles, thanks to how smart meters communicate with the updated grid. Customer benefits include the opportunity to reduce costs by using information from their smart meter to help shift the timing of their energy usage. Smart meters also enable quicker restoration in the event of an outage and faster connection when moving or starting service.
Evolving our generation plans for cleaner energy and to ensure the system remains reliable and resilient for all customers.
Providing cleaner energy to the communities we serve through the Neighborhood Solar program by installing parking lot solar facilities in partnership with local organizations.