Michael G. Mueller
Vice President, Economic Development - Ameren Illinois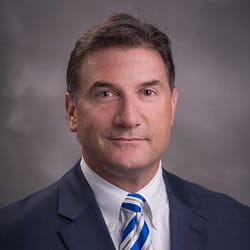 Michael G. Mueller has more than 32 years of energy experience with Ameren Corporation. Mueller was recently named Vice President Economic Development, Ameren Illinois.

Prior to this position, he served as Vice President, Economic & Technology Development, Ameren Services since 2015. In that role he was responsible for Economic Development for Ameren Corporation, led customer relation efforts with large commercial and industrial customers in Ameren Missouri and helped lead Innovative Technology efforts for Ameren.
Mueller was Vice President, Energy Management & Trading for Ameren Missouri from 2011-2015. In this role, he was responsible for energy trading and the procurement and transportation of all coal, natural gas, oil and emissions control commodities for Ameren Missouri. He was also responsible for the management of plant emissions, coal combustion by-products, and other fuel related development efforts, including Ameren Missouri's Renewable Energy program.
Mueller joined Ameren Missouri (formerly known as Union Electric Company) in 1986 as an Engineer in Corporate Planning. Over the next several years, he served in various roles involving fossil fuels, power trading and generation. In 2004, Mueller was promoted to President of Ameren Energy Fuels & Services (AFS), a position he held until 2011, when AFS was absorbed into the three operating companies of Ameren. In 2011, he joined Ameren Missouri as Vice President of Energy Management & Trading leading the combined Fuel, Power and Energy Commodities trade groups for Ameren Missouri.
Mueller earned a Bachelor of Science in mechanical engineering from the University of Missouri – Rolla in 1986 and acquired his MBA from Southern Illinois University – Edwardsville in 1992.
Mueller currently serves on the Missouri Partnership Board, the Coalition Board of BioSTL and the I-Cares Committee of Washington University. He is also serving as Exec VP on the Board of United 4 Children and recently completed over 12 years of board and committee service for United Way.