Theresa M. Shaw
Senior Vice President, Regulatory Affairs & Financial Services - Ameren Illinois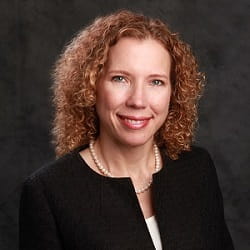 Theresa Shaw is Senior Vice President of Regulatory Affairs and Financial Services for Ameren Illinois. In this role, Theresa is responsible for leading power and natural gas procurement; energy efficiency programs; financial analysis and reporting; budgeting; asset, risk and business performance management; continuous improvement; regulatory affairs; regulatory policy, compliance, and strategy; and rates functions for Ameren Illinois.

Before her current position, Theresa served as the Vice President of Internal Audit for Ameren Corporation, providing independent, objective assurance and consulting services to improve Ameren's operations and assist senior management in achieving business objectives.
Theresa joined Ameren Corporation in 2002 as a Supervisor of Investor Relations and Financial Communications. She was promoted into various accounting and reporting positions of increasing responsibility, including her appointment in in 2012 as the Assistant Vice President and Controller of Ameren Corporation, with responsibility for external financial reporting, plant accounting, power and fuel accounting, general accounting and corporate management reporting.
Prior to joining Ameren, Theresa worked at PricewaterhouseCoopers for seven years, where she attained the position of experienced audit manager, providing audit services to a variety of private and Fortune 500 public companies
A certified public accountant, Theresa earned a Bachelor of Science degree in accountancy with a minor in German from the University of Missouri – Columbia, where she graduated summa cum laude, and a Master's of Business Administration from Washington University in St. Louis. She is a member of the American Institute of Certified Public Accountants.